The Nutley Educational Foundation, Inc. was founded in 2003 as a  501(c)3 not for profit organization established solely to provide funding to support educational endeavors in the Township of Nutley.The mission of the Nutley Educational Foundation, Inc. as approved by the NJ Department of State is: "To obtain and utilize alternative sources of funding for the Nutley Public School District, including facilities upgrading, curriculum development, instructional and professional development projects for the benefit of the Nutley Public School community and the Township of Nutley community." Our Board of Trustees looks for resources to help create and/or expand opportunities for our Nutley school children that would otherwise not be possible.

In the past we have been able to provide funding for the elementary school science programs (a Hoffman-La Roche donation) and to bring innovative technologies to these classrooms as well. We research corporate grants and identify other programs to fund our objectives. It is our hope to explore additional initiatives for funding that will prove advantageous to our school district. Nutley's technological outlook is a huge undertaking financially but absolutely necessary to prepare our students for the future. Programs in science, technology, engineering and mathematics (STEM) require computers for every student. That's a future goal that clearly is needed today. NEF can help in this endeavor and you can help NEF!

NEF is a 501(c)3 charitable organization established to provide alternative sources of funding for educational endeavors in the schools and community of Nutley, NJ.
For more information please email us at: info@nutleyEF.org
The Nutley Educational Foundation (NEF) is thrilled to unveil the winning design from its logo contest held last fall. The new logo is part of an ongoing effort to re-introduce the community to NEF and draw awareness to its mission to support educational opportunities in Nutley.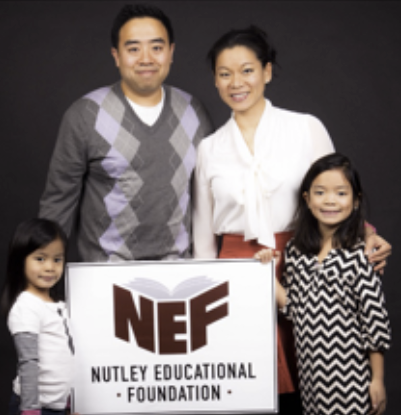 Nutley parent Austin Wei created the design based on the creative ideas of his children Naomi, a 1st grader at Yantacaw School, and Mikaela, age 5. NEF President Lorraine Kucinski congratulated Austin and awarded him with a $100 gift card last month. Next, be on the look out for the "Where Can You Find NEF?" campaign. NEF will be photographing its new logo in various secret locations around town and will be asking YOU to use your Nutley knowledge to figure out where the picture was taken.
Photos will be posted weekly on the NEF Facebook page.
Please LIKE the page facebook.com/nutleyeducationalfoundation and spread the word to help raise awareness of the foundation.   
NEF is a 501(c)3 not for profit organization with the goal of securing alternative funding sources to provide learning opportunities in the Nutley schools and community that might otherwise not be possible.
Thursday evenings are usually not a happening time of the week. However, for the young adults of the Nutley Education Foundation-sponsored Canteen nights, it's a chance to be creative, play games and do what people their age like to do - spend some time with friends.
Five months ago, the NEF asked the Special Young Adults for its space two evenings a month to run the pilot Canteen, Vice President Kathy Rempusheski said.
Read the full article at:
http://www.northjersey.com/news/education-foundation-sponsors-canteen-nights-at-sya-1.311011