Thank you for logging in to the Nutley Educational Foundation website.  My name is Lorraine Kucinski and I currently serve as the President of NEF. Our Board of Trustees may be found on the website under the "About NEF" tab.

So, we are the Nutley Educational Foundation!! 

Our

mission as approved by the NJ Department of State is: "To obtain and utilize alternative sources of funding for the Nutley Public School District, including facilities upgrading, curriculum development, instructional and professional development projects for the benefit of the Nutley Public School community and the Township of Nutley community." 

 

In short, we raise funds through the generosity of the Nutley community to help supplement what the school's budget cannot afford.

Over the past 4 years we have raised nearly $60,000 to provide for our teachers and students.   So why are we pushing so hard to raise money…  Because our community and our children are truly blessed by our team of education specialists.  Our teachers unselfishly and heroically open the minds of every Nutley student gifted or challenged. 

They are the professionals who take education beyond the traditional classroom looking for programs, services and resources to enhance the learning experience. They are all outstanding and a credit to this community!!!  We recognize their talents and we applaud them.

They are what drives us!!

We recognize that our district is at risk for maintaining current standards and we're falling short on being able to fund innovative programs, or replace aging equipment or repair schools through the school's budget dollars.    It's because State and Federal government only provide funding for 5% of the school budget.  Property taxes provide the remaining 95% of our district's annual operating budget, however, since 2006, we have remained capped at a 2% increase annually!!  Many fixed and reoccurring costs such as healthcare and special education are rising well beyond the 2% cap. 

Faced with this adversity, we just don't want our children or the community to do without.  We are a high-achieving district and we are not going to let that change.  However, we need you to help us continue our work.  Unfortunately, $60,000 is just a drop in the bucket compared to some education foundations that are raising hundreds of thousands of dollars annually for their schools.

Make no mistake that the backbone of your town is your school system.  If we allow it to become sub-standard, we all suffer.  Our children suffer, the value of our homes suffer.  However, collectively, we are able to make a difference. 

Martin Luther King believed that our lives begin to end the day we become silent about things that matter.  Well, we will not be silent.  Our children matter!!!  Our community matters and we're shouting out that there's no room for mediocrity in Nutley.  Step up or Step OUT!!!   We're speaking up about what our school district needs….and we're inviting you to join us…. won't you make an investment in our schools, our teachers and our community for our children.

In the words of American Author, Nora Roberts,  "If you don't go after what you want, you'll never have it. If you don't ask, the answer is always no. If you don't step forward, you're always in the same place."

NEF is going after what it needs and we are asking for your financial support. NEF is stepping forward and we don't want to leave anyone behind!!!! 

Thank you again for coming to our website.  We welcome you to follow us and hopefully join us!!!

Warm regards,

Lorraine Kucinski

President

NEF is a 501(c)3 charitable organization established to provide alternative sources of funding for educational endeavors in the schools and community of Nutley, NJ.
For more information please email us at: info@nutleyEF.org
The Nutley Educational Foundation (NEF) is thrilled to unveil the winning design from its logo contest held last fall. The new logo is part of an ongoing effort to re-introduce the community to NEF and draw awareness to its mission to support educational opportunities in Nutley.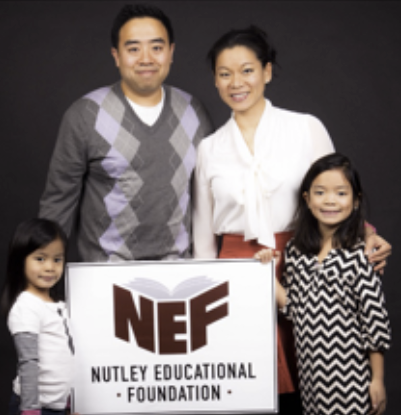 Nutley parent Austin Wei created the design based on the creative ideas of his children Naomi, a 1st grader at Yantacaw School, and Mikaela, age 5. NEF President Lorraine Kucinski congratulated Austin and awarded him with a $100 gift card last month. Next, be on the look out for the "Where Can You Find NEF?" campaign. NEF will be photographing its new logo in various secret locations around town and will be asking YOU to use your Nutley knowledge to figure out where the picture was taken.
Photos will be posted weekly on the NEF Facebook page.
Please LIKE the page facebook.com/nutleyeducationalfoundation and spread the word to help raise awareness of the foundation.   
NEF is a 501(c)3 not for profit organization with the goal of securing alternative funding sources to provide learning opportunities in the Nutley schools and community that might otherwise not be possible.
Thursday evenings are usually not a happening time of the week. However, for the young adults of the Nutley Education Foundation-sponsored Canteen nights, it's a chance to be creative, play games and do what people their age like to do - spend some time with friends.
Five months ago, the NEF asked the Special Young Adults for its space two evenings a month to run the pilot Canteen, Vice President Kathy Rempusheski said.
Read the full article at:
http://www.northjersey.com/news/education-foundation-sponsors-canteen-nights-at-sya-1.311011