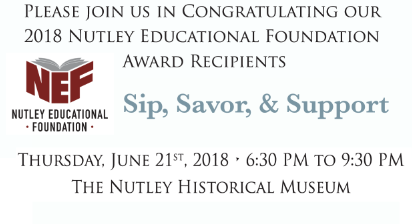 TICKETS
Tickets are now on sale! $25 per person. Purchase HERE.
(Limited quantities available).
SPONSORSHIP OPPORTUNITIES
Interested in sponsorship opportunities? Learn more HERE.
DONATIONS
Please consider supporting the foundation!
The Nutley Educational Foundation is a 501(c)(3) non-profit organization established to provide funding to support educational endeavors in the Nutley NJ School District and community.
Becoming an NEF donor helps to provide additional support to Nutley education in the Arts, Science, Technology and beyond.
All donations are tax-deductible to the extent allowed by law.
Nutley Educational Foundation Inc. is a 501(c)(3) public charity, EIN 43-2034978.
Donate Online, or make checks payable to:
Nutley Educational Foundation P.O. Box 735, Nutley, NJ 07110